About Us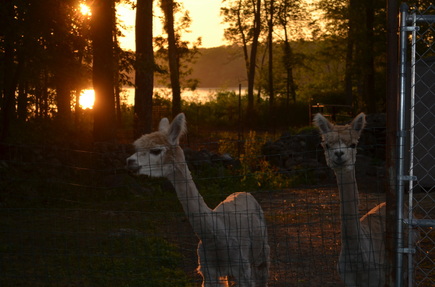 We are a small working farm in Rehoboth, Massachusetts. Early in 2012, our daughter, an avid and talented knitter, told us of her passion for alpaca yarn. She asked if we'd ever consider raising alpacas along with our goats and chickens.
We did some extensive research and thought that someday we'd look into it. Soon after that, we saw an ad written by a farm in western Massachusetts that was looking to sell their alpacas quickly due to family illness. In one week, we purchased a transport trailer, set some fences, created a shelter, bought grain and water buckets and secured a vet. With the thought of buying three healthy registered animals, we drove home with FIVE! To date we have TWENTY animals and the herd is growing with a cria due this fall.
We've been welcomed by a mentor farm and are grateful for their wisdom and expertise to guide us. We work with the New England Alpaca Fiber Pool (NEAFP) to process our fiber into quality products.
We 'pronked' into the world of alpacas and have never questioned the decision!
In addition to alpacas, we have free range chickens and a spunky mini Schnauzer who happily greets each farm visitor.  We breed and sell alpacas and have plenty of alpaca manure on hand to enrich your garden or house plants.   Questions? Please feel free to contact us